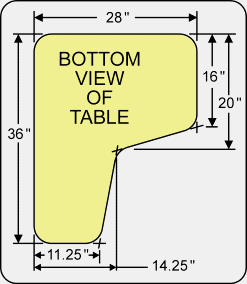 1) Start with a piece of 1 inch plywood 28" x 36" in size. 3/4 inch plywood can be used in a pinch (I used 3/4 inch ply on the original), but 1 inch plywood will give a stiffer table.

2) Choose the good side of the plywood for the top surface, and turn that side down.

3) With the not-so-good side facing up, mark "BOTTOM" on it so you don't get mixed up. All layout and line work will be done on the bottom surface.

4) With the bottom surface facing up, mark the dimensions and outline as shown in the diagram, and cut the table top to shape.