This is a 1/72 scratch-built model of Ettienne Dormoy's race-winning 1924 light plane racer. The real aircraft was powered by an in-line four cylinder Henderson motorcycle engine. I built this model when I was about 16 years old. In 1976, Terry Moore, then President for Life of the Seattle Chapter of the IPMS, carried this model in his lap, on a plane, from Seattle to Texas, to the 1976 IPMS National Convention, where it got a 2nd place in the 1/72 Scale Scratch-built Aircraft Class.

The trophy was two feet three and one half inches tall! :-)

The model's wingspan is only four inches, and the length is a miniscule 2.15 inches.

How tiny is this model? Got a penny? This tiny!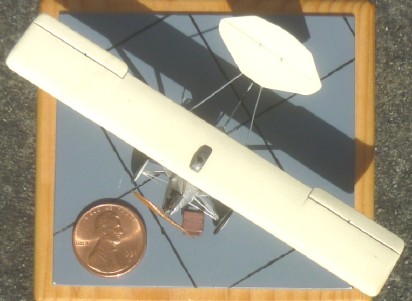 Tiiiiiinny little model.
Greeeeaat big trophy!