to Michael A. Morrow's
Flying Scale Model Plans,
Flying Model Supplies, James Morrow's Scale Drawings, and



Rubber-Powered Flying Scale Kits!
---
October 30th, 2017
New on the Building Board
(besides glue, spilled paint, and new divots from a dropped, fast-spinning cutting disk)

What's New! 03/11/2017

o NEW INDOOR BALSA Source


Nick Aikman's Green-man Balsa





added to Suppliers Page


o No-Cal Flying Flea Update


o No-Cal Flight-Trimming page


o Finding Root Mean Chords by;



1) quadratic equation; &



2) graphically


o No-Cal CR-3 racer mods


o FIVE New No-Cal Plans!


- Dornier Do-335

- Gloster Whittle


- Grumman FM-2 Wildcat


- Kawanishi N1K1-J Shiden


- Yokosuka R2Y1 Keiun

New Catalog $2
Order here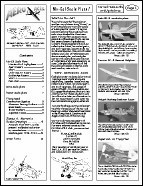 This catalog supercedes all
other catalogs.