to Michael A. Morrow's
Flying Scale Model Plans,
Flying Model Supplies, James Morrow's Scale Drawings, and



Rubber-Powered Flying Scale Kits!
---
October 9th, 2019
New on the Building Board
(besides glue, spilled paint, and new divots from a dropped, fast-spinning cutting disk)

What's New! 10/15/2019

o The ESAKI Company has





ceased production of ESAKI






Japanese tissue, so I will no






longer be selling it.



o I'll be adding a photo essay





on Rolling Motor Tubes to the






No-Cals Home Page here



o NEW INDOOR BALSA Source


Nick Aikman's Green-man Balsa





added to Suppliers Page


New Catalog $2
Order here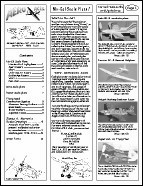 This catalog supercedes all
other catalogs.