MEDIUM BEARING HOLDER:
For rubber sizes between 0.060" wide and 0.085" wide.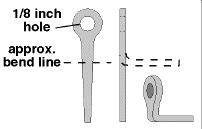 Price: $2.00 each plus shipping per
order form

Nylon bearing not included.

Recommended for the No-Cals listed on the right:
A. of NZ CT-4 Airtrainer
Bede BD-8
P-63 'Crazy Horse...'
P-63 'Flying Red Horse'
Blohm & Voss BV P.211.02
P-26 'Peashooter'
Bristol racer
Cassutt Model 2 F1 racer
Casutt Racer Boo-Ray
Cessna CR-3 racer
Fokker D-VIII
G. F8F racer 'Conquest 1'
Hawker Sea Fury racer #87
Heinkel He-112B-0 fighter
Heinkel He-162 'Volksjager'
Keith-Rider R-4 'Firecracker'
Martin-Baker MB-5
Midget Mustang
Mignet "Flying Flea"

Monocoupe Clipped-Wing Racer #14
N.A. P-51 racer 'miss R.J.'
N.A. P-51 racer 'Miss Candace'
N.A. P-51 racer #45
North American T-28 Trojan
Pearson-Williams "Mr. Smoothie"
Pilatus PC-9 trainer
Piper PA-8 'Skycycle'
'RIVETS' Formula I racer
Ryan XF2R-1 Darkshark
Sopwith 1 & 1/2 Strutter
Spitfire race #80
Vought XF5U-1 'Flying Pancake'
Westland Wyvern
Whittman 'Bonzo'