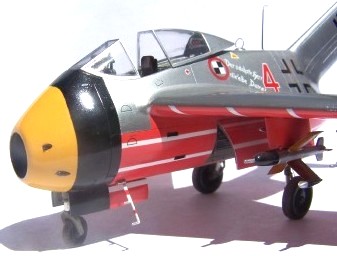 1/48 AMTech Focke-Wulf TA-183 "Huckebein"
by Michael Morrow

I had been hearing stories and reading reviews about how good the AMTech TA-183 kit was for a couple of weeks. TA-183 builds in the most creative and colorful color schemes imaginable were being posted on the internet and brought to the local model meetings, where the kit was praised even more. Curious to sample the state of the art, I finally broke down and got one from Emil up at Skyway Models.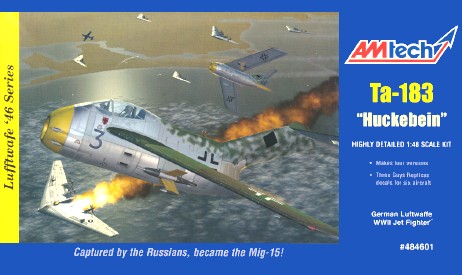 The reviews were all they said it was - the AMTech TA-183 was a great kit, but I decided to try to make it better by trying out a few techniques I hadn't used before, one of which was using photo-etch cockpit parts. When I got the kit, I also picked up an Edward FW-190 D-9 photo-etch cockpit set. This would be the first kit I built where I added after-market details.

So here's my build. Starting with the cockpit, I added photo-etch seatbelts, handles, levers, and rudder pedals from the Eduard FW-190 D-9 photo-etch set. Since you can see the back of the instrument panel, I also added wiring to the back of the instruments. Getting the cockpit tub to fit properly resulted in the EZ-42 gun-site being lowered so only half of it looked over the cockpit dash. The site was cut off, and small holes carefully drilled for new, taller posts made from stretched sprue. The gunsite was glued on AFTER the model was completely painted to prevent damage during the extensive masking for painting.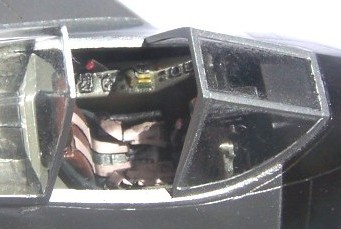 The canopy comes as a single piece, so I cut the windscreen away from the canopy so the sliding portion of the canopy could be displayed in the open position to show off all the cockpit detail. The canopy wouldn't sit on the aft deck without support, so a piece of armour plate was shaped and glued in place inside the canopy just aft of the clear section. The armour supports the canopy on the aft deck, and allows the canopy to be displayed properly in the open position. The Eduard set also includes a canopy pull-back handle which was installed just inside the sliding canopy's front frame.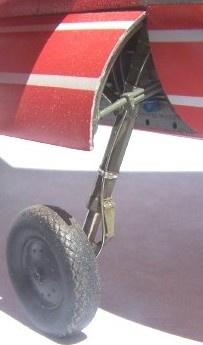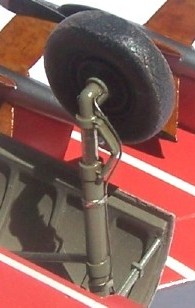 The landing gear were enhanced with chrome-style BARE-METAL adhesive foil wrapped around each strut oleo, very effectively simulating highly polished oleo struts. Aluminum wire was added to each main gear leg to simulate brake lines. The front landing gear leg was heated and turned to represent a front wheel being steered to the left.