This model was one of two models I built for the Northwest Scale Modelers Museum of Flight science fiction themed display called "FANTASTIC VOYAGES - The Hardware of Science Fiction", which was on display from November 5th, 2009 to February 4th, 2010. The other model a model I built for the display was Thunderbird No 2. ( presented here ) from the old BBC marionette puppet show called "International Rescue". It was a great display, as there were a lot of models from other famous science fiction series and movies, and they were all well done.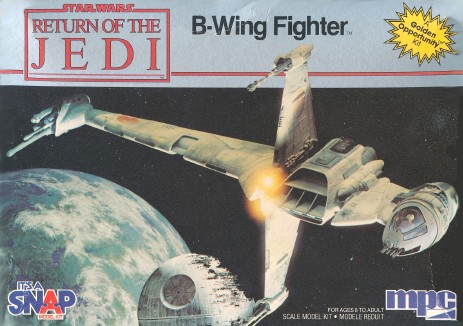 The model is the old 1/94 scale MPC snap-together kit which I have had sitting in my stash of kits almost since the movie RotJ came out, but never quite got around to building. The Museum of Flight science fiction display was the perfect excuse to drag it out and build it.

One of the big problems with spaceship models is figuring out a realistic way to display them "in flight" in space, without resorting to some kind of cheesy-looking display stand that you know isn't supposed to be there, and you don't want to see it, but there it is, big as day, distracting from the model. So, I was most pleased, while looking on the internet for B-Wing color scheme information, to come across a piece of art work showing a B-Wing Starfighter sitting on the ground. That piece of art was the inspiration for this build, and it worked out rather well. I would show you the art here, but it happens to be a copyrighted piece that was done for a STAR WARS book. If you would like to see it, you can probably find it on the internet, or you could support the artists who did the work by picking up a copy of their book.


The art work showing the B-Wing fighter sitting on the ground is (supposedly) on page 138 of this book (don't take my word for it - double-check that it's the correct book before picking up a copy!):

Star Wars Complete Cross-Sections:
The Spacecraft and Vehicles of the Entire Star Wars Saga
by David West Reynolds (Author) Hardcover Publisher: DK Publishing (Dorling Kindersley) - April 1, 2007 Illustrations by Hans Jenssen and Richard Chasemore.

The Build
The MPC 1/94 scale STAR WARS B-Wing Fighter is a snap-together kit, but I didn't let that keep me from providing my own entertainment. I could see that it was going to be difficult to add detail and paint the model in one big integrated snapped-together piece, so at various points during the assembly, major components were cut in half with a razor saw to facilitate painting and detailing. The main wing became two pieces, and the cockpit module, which would have been trapped between the two main wing halves during assembly, also became two pieces, having been cut in half between the cockpit and the aft end. All this cutting and sawing would allow me to build, paint, and detail the model as seven separate sub-assemblies, before final assembly (left main wing, right main wing, engine assembly, front cockpit pod, rear cockpit pod, folding wing cross assembly, and the double pod assembly that fits between the engine and cockpit pod). I also cut the canopy shell off the cockpit pod so it could be displayed in the open position. Sadly, I did not have a digital camera when I built this model, so I can't show you photos of the build in process, but I can show illustrations of most of the steps.