The Northwest Scale Modelers display case exhibit at the Museum of Flight has provided much inspiration and active participation amongst our local club members over the years. The displays are theme-based, each display covering some unique aspect of air and or space flight, and when the Science Fiction display was announced, I knew I would participate. The only question was what to build. Since no scale was mandated for this particular display, the only requirement would be whether or not it would fit in the display cases and not take up too much room. I rummaged through my model stash, and found an old snap-together STAR WARS B-Wing fighter, ( presented here ) that was an appropriate size.

But what else could I build? The answer presented itself several days later when during a search for STAR WARS B-Wing fighter information, the old BBC marionette puppet show called "International Rescue", with it's fleet of futuristic "Thunderbird" spacecraft and vehicles, was recalled to my fond memory by an internet kit review/build of one of the spacecraft used in the show. Of course, that set off an immediate and frantic search for kits of my favorite spacecraft of the show, Thunderbird No. 2, the huge logistical transport ship used to ferry other vehicles and equipment belonging to the super secret group called "International Rescue" around the globe. The kit had to meet two requirements - it had to be cheap, and it had to be small. Sadly, almost every kit of Thunderbird No. 2 was either very, very expensive, or long out of production.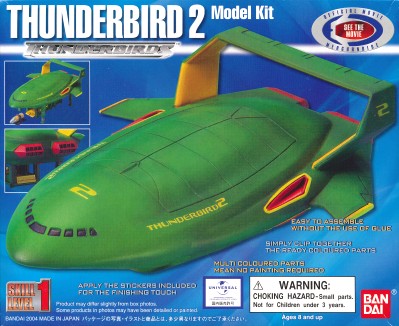 But wait! There, on an internet model shop web-site, was Thunderbird No.2, and it was CHEAP! It was the BAN-DAI 1/450 scale kit of the movie version of Thunderbird No. 2. "Wait. There was a movie?", I thought to myself. "How did I miss that?" But missed it I had. I immediately ordered the kit. Quick research followed. Could I back-date the kit to the original puppet show version? Sadly, no. It was similar, but not close enough to be practical. But it was a Thunderbird No. 2, so I was quite excited when the kit arrived in the mail. I opened it up and . . .

"Wow. This thing is really tiny," I says to myself. So tiny in fact, that it presented a unique problem - how to show how huge the "real" Thunderbird No. 2 was with just a tiny little kit like this. The model was only 4" long, with a wingspan of just 3". I had expected it to be slightly bigger, but it turns out that the "movie" version of Thunderbird No 2 was smaller than the original No. 2. In any case, perspective would be needed - some way to show the size of the real thing compared to things everyone was familiar with. I remembered seeing a ship model in an even smaller scale at the Seattle IPMS Spring Show one year, where tiny little stubs of plastic sprue had been very effectively painted to represent sailors - dark pants, lighter shirts, flesh heads, and dark hair all combined to make a tiny stick look human, even though it didn't have any arms or legs! I decided I would take the same approach.

The Build
The BAN-DAI 1/450 scale Thunderbird No. 2 is a snap-together kit, so there aren't a lot of parts. The kit did include a small, nice two-piece model of the "Mole" (also the movie version), one of International Rescue's specialty vehicles, and instead of a removeable cargo pod, it had moveable drop-down loading ramps on which the "Mole" could be displayed if the extended landing gear were used. The "decals" were cheesy peel-and-stick-on plastic affairs which fairly screamed "TOY", and were thick enough to be ugly. I did not use them. I toyed with the idea of cutting the cargo pod top and bottom out of the fuselage halves, scratch-building a cargo pod, and displaying it in the dropped position, but time was a factor in this build, so I elected not to.

Between the boxtop and internet references, the color scheme was pretty well established. I spent a good deal of effort trying to mix the exact color green used on Thunderbird No. 2, but it seemed to vary from reference to reference, and I ended up with a cross betweeen the dark green on the original No. 2 and the almost bright green used on the movie posters for the movie version. I pre-painted as many of the parts as possible, and grudgingly replicated the rather garish bright yellow trim shown on the box-top.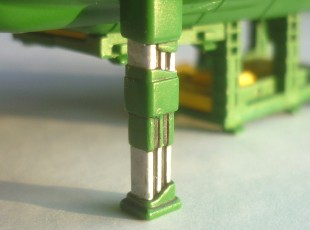 There was little opportunity for detailing, the landing gear legs being one of the few parts with detail on them, so they were carefully painted, and using a technique borrowed from GUNDAM modeling, seam lines on the legs were detailed with a super-fine-point felt-tip pen.